Show 'em who's boss - Training to help female tradies run their own businesses
Image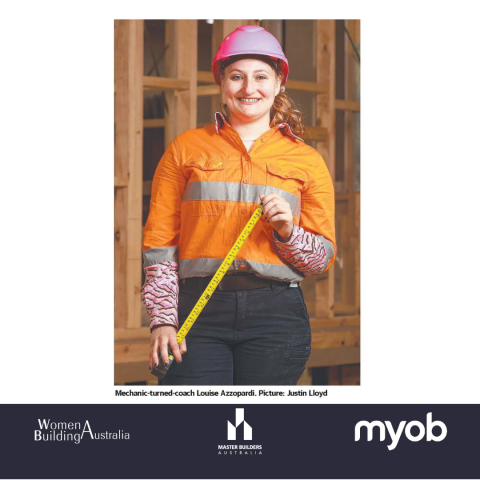 May 13, 2022
FEMALE tradies are not only making their mark in traditionally male-dominated industries, they're now getting trained so more can become the boss.
 A free course focusing on digital skills run by Master Builders Australia in partnership with MYOB will provide a seven-week online program to teach women in construction skills such as bookkeeping and managing cash flow, clients, suppliers and payroll.
Tradeswoman Louise Azzopardi was just 15 years old when she started as a heavy vehicle mechanic apprentice. Now 26, Ms Azzopardi is her own boss, coaching and giving advice to other female tradeswomen who want to start and run their own business.
 "Just being an expert in the trade doesn't make you a business owner," Ms Azzopardi told The Daily Telegraph. "This opportunity to learn critical business management skills will take out a lot of the stress preventing tradeswomen from starting their own business."
She noted the often-recited statistic that women will apply for opportunities if they meet 100 per cent of the qualifications, but men will apply at 60 per cent. "This scheme will give them the chance to get that 100 per cent to start their own business."
Ms Azzopardi said that funding to help women in industries was often spent on networking lunches and while networking was important, this joint initiative with Australian government would be "a practical way to provide women with the right tools and techniques".
"In construction, so often the women in the industry are 'hidden', they're likely the wife, mum or the daughter doing the books for the family business, and they don't get enough credit with how important that role is," she said.
Businesses that use digital tools such as accounting software are 50 percent more likely to grow revenue, according to Deloitte Access Economics, but modelling from MYOB shows one in five small businesses hardly interact with the digital world at all. Registrations are now open for the program and it will commence on May 17. Enrol here.