Paving the way for women in building and construction 
Image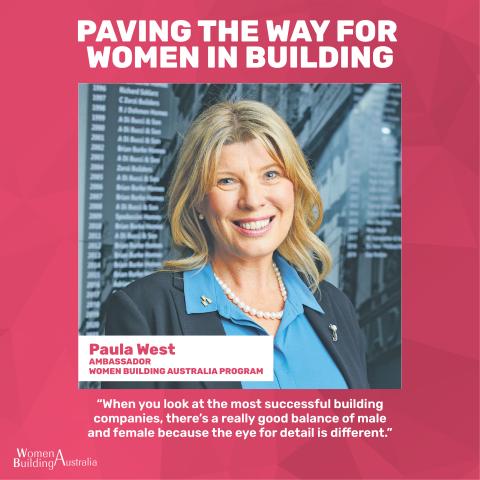 Sep 07, 2022
Since a young age, parked in front of the television and admiring architect Mike Brady from The Brady Bunch, Women Building Australia Western Australian Ambassador and Inspired Homes General Manager Paula West knew she desired a job which enabled her to follow her passion in design and architecture while raising her kids.
"In primary school, I was always drawing houses and then, when I went to high school, I started doing work experience at building companies just to get ahead of the game," she said.
After completing an architecture diploma, Ms West took advantage of every opportunity and role she could.
"I started off at the ground level doing designing and drafting before progressing as an architectural design drafting manager, an administration manager, a customer service manager and then general manager," she said. "Along the way, there were many opportunities – I did supervise and legal liaison.
"I was always building my portfolio; skill sets and experience."
Now, with more than 20 years of experience in mentoring, Ms West takes a proactive part in guiding up-and-comers in the Women Building Australia program, which she said aimed to attract more women into the industry and support women already in the industry to succeed.
"Certainly, when I came through the industry, there were very few women in it and there wasn't any mentoring – you literally had to find your own way," she said.
"To be able to get more women in the industry, it's very important to get that mentoring and ensure guidance is there to assist them along the way."
Ms West said her legacy would be all the knowledge and experience that she had passed down to people – both men and women – so that their pathway could be a lot smoother.
"When you look at the most successful building companies, there's a really good balance of male and female because the eye for detail is different," she said.
"There's a lot of men mentors in the Women Building Australia program and it is a credit to them because it's lovely to have male champions mentoring women coming through."
Offering some advice for women looking to make a career change and join the building and construction industry, Ms West said to find the area you liked, whether it was design and creative or hands on, and you would never look back.
"There is a lot of work in the industry – it's a foundation for the economy and there'll always be work available," she said. "There's also a lot more flexibility and understanding in relation to family life, with more support and understanding for women in the industry.
"A lot of men have stepped up in the sense of looking after family as well – the biggest change I've seen is that men are dropping kids at school and picking them up, which is fantastic because in the workplace they should have the same rights as a female to do so."